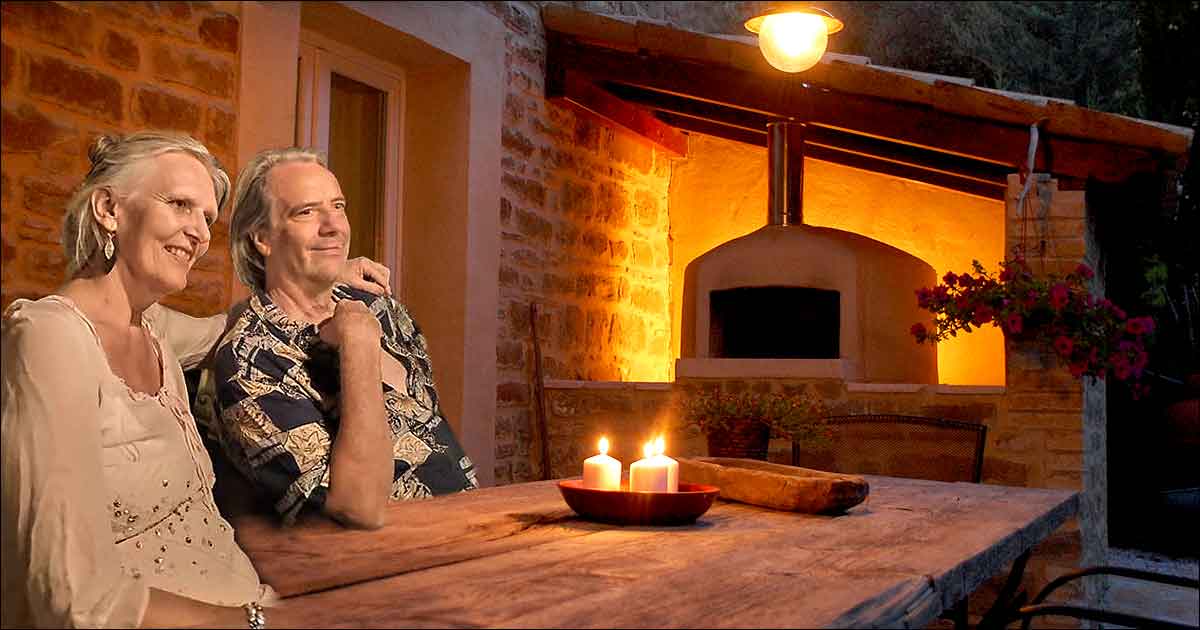 Your Assisi Retreat hosts
Mayadevi & Shintai

Spirituality as our connection
We met each other in 1988 while living in Italy in the spiritual community around our teacher Michael Barnett. After some years we moved back to Denmark to start family life there.

Whilst enjoying daily life with our two kids we managed to develop our musical career together: released different CDs, played meditation concerts and offered silent retreats.
Being with what is
Furthermore we both worked for more than a decade for the government as counselors for people with both physical and mental handicaps. This work has given us a tremendous insight in how to support people in finding alignment in life.

It is our experience that true inner peace comes when one can accept reality as it is. When "what I am" harmonises with "what I can, want, will" and the "shoulds, ought to and could in the past" dissappear. When alignment occurs, magic happens.
And now… offering our Assisi Retreats
After some 25 years we learned about "Impermanence", a part of the fairy tale slowly came to an end. Our two princes were suddenly grown up and found their princesses!

So we decided to leave our empty castle (that is, a modest wooden house close to the beach and forests) to move south… to magical Italy, where we welcome you to one of our Assisi Retreats…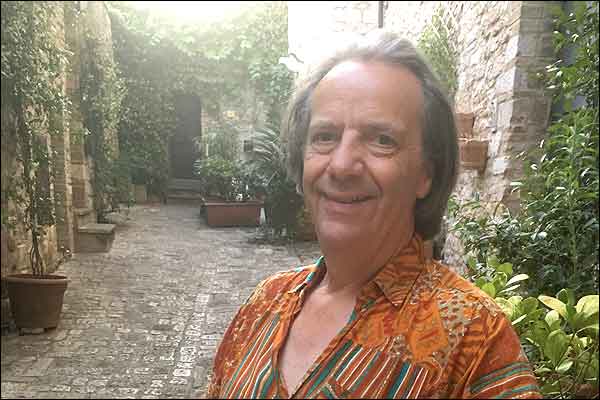 Shintai
When I was a teenager in the late 60´s I got touched – as so many others – by the Indian culture. Ravi Shankar´s music opened up a new world to me. I looked for all the music and books I could find.

Then Jiddu Krishnamurti introduced me to the spiritual dimension. I was lucky to attend several of his discourses in Switserland and England.

Then Osho came on my path. His books were teaching me so much, gave so many insights and was putting all those loose or broken pieces of my catholic upbringing in place. So in 1980 I decided to go to India to see him. To find harmony there. I found out that reading books is one thing, to sit in front of an enlightened teacher and to stay in the energyfield around him is something completely else…
The Work had started, something was touched and nothing would ever be the same again.

One year later I met Michael Barnett, then one of the main therapists around Osho and my meeting with him changed my life forever. Since then I´ve been – and still am – involved closely with Michael and his Work.

And now… offering here our Assisi Retreat, merging into the every day life, "The Simplicity of Being" as we call it… A dream come true..

Mayadevi
In the early seventies I started my musical education at the University of Copenhagen. A few years later I completed another education as Body Therapist. As such I have been working all my life, teaching relaxation courses and giving birth preparation & afterbirth workshops.

My meeting with Michael Barnett initiated me into the Meditative Space. It is a joy still to have a very close relationship to him.

In the early nineties I attented several meditation retreats under guidance of a nun or monk from Thich Nhat Hanh´s Plum Village.

For more than 10 years I was attending Faisal Muqqadam´s Diamond Logos Work – facilitated by Velusia van Horssen and Jeremy Klein – which has given me tremendous insight in the unity of body, mind and spirit.

My final eye-opener was my Somatic-Experiencing education in combination with Diane Poole Heller´s Attachment Work. Since then I have been working full time as a chock/trauma therapist.

It is such a privilege to be able to share here during our Assisi Retreat all the knowledge and experiences I have gathered …
Shintai´s story of his special connection to Saint Francis, Saint Clare and the Third Order …