Our Spirit of Assisi Retreats
Assisi embraces all Spiritual Seekers
Eight centuries ago Saint Francis and Saint Claire
laid the foundation for the "Spirit of Assisi",
an energyfield which more than ever is vibrant and alive.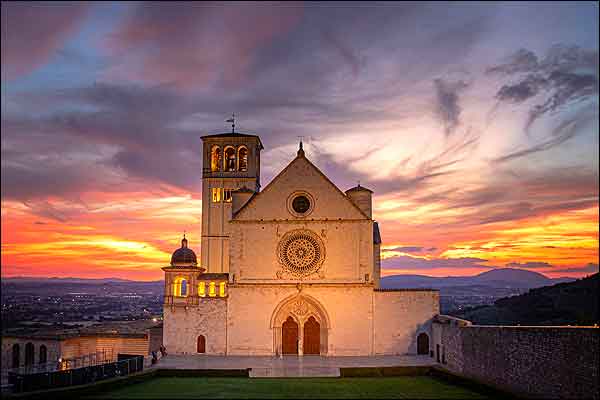 The Assisi Retreats
The Basilica di San Francesco lies on the west side of town. It´s an impressive big church and monastery! And yet, when entering the lower crypt where the remains of San Francesco lie, surrounded by four of his closest disciples, all of the outer grandeur disappears and a sincere simplicity unfolds…
For us, the presence of St. Claire (Chiara) is as important as Francesco´s. The Sisters of St. Claire live in their monastery on the east side of town. They live in enclosure, mostly in silence and gather for prayer several times a day. Each day they sing in the basilica di Santa Chiara the morning prayer.

It is such a serene and quiet gathering attented by a hundred people or so, all sitting in silence…
When attending a Silent Retreat we together will visit these places, as well as the original church and monastery of both Chiara and Francesco.

Contact us for the detailed Assisi retreat programme.